Automation is becoming an essential tool for modern businesses that want to remain competitive and efficient.
Automation can bring a number of benefits to businesses of all sizes. It can speed up processes, reduce errors and free up employee time for more important tasks. It's crucial that companies recognize their internal problems and look for ways to solve them through automation.
For example, if a company sends orders using Excel spreadsheets via email, it can be difficult to keep up with the growing number of orders. In that case, automation could help streamline the process.
How to get started with automation?
The key to success in automation is understanding your own business processes. Companies should start by identifying areas that could benefit from automation and look for solutions that best fit their needs. This can include everything from automating business processes such as quote generation to implementing advanced digital data solutions.
The first step is to identify areas that could benefit from automation. This may include business processes, customer communications or internal communications. Once these areas are identified, it's important to find the right tools and platforms to help you achieve your goals. At Plexima, we use the Zapier and Make platforms to automate processes and connect application platform Zapier a Make.
Benefits of automation
Efficiency: automation can significantly increase efficiency by eliminating manual tasks and speeding up processes.
Accuracy: Reducing errors is one of the main reasons companies implement automated solutions.
Competitiveness: In an increasingly digital world, companies that use automation can better compete with their competitors.
Examples of automation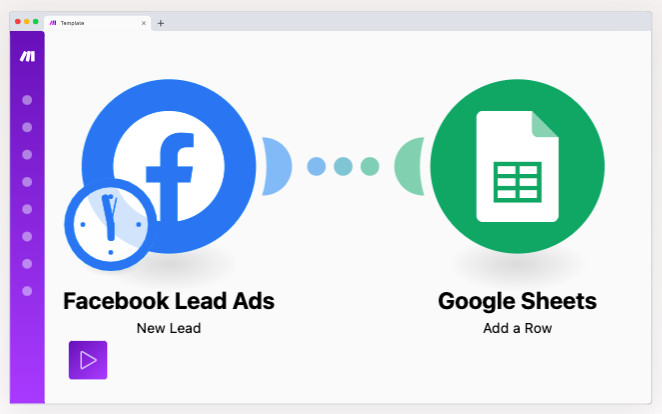 Integration with Google Sheets
Saving new leads from Facebook Lead Ads to Google Sheets: When you get a new response to a Facebook Lead Ads form, it will be recorded as a new line in Google Sheets.

Adding new deals from Pipedrive to Google Sheets: When you create a new deal in Pipedrive, Make will automatically add that deal to a new row in Google Sheets.

Creating new contacts in Powerlink from new rows in Google Sheets: This template periodically checks for new rows in Google Sheets and uses the information to create new contacts in Powerlink.
Automation of email processes
Sending regular emails in Gmail: This template allows you to automatically send emails at regular intervals.

Auto-reply to emails with ChatGPT: Allows you to automatically reply to emails using ChatGPT.
Analysis and data processing
Sentiment analysis for product satisfaction surveys: uses AI to analyse sentiment from responses to product satisfaction surveys.

Sales call summary and competitor analysis with AI: This template allows you to automatically summarize sales calls and analyze competitors with AI.
Other examples
Converting blog posts to social media posts with ChatGPT: Allows you to automatically convert blog post content to social media posts.

Importing contacts into EspoCRM from Google Sheets: When you add a new row to your Google Sheets, Make will automatically import the contact details into EspoCRM.
It's clear that companies that opt for automation will gain better visibility into their data and save a great deal of time. If you want to automate processes in your company, At Plexima, we create, build and automate customized workflows or marketing processes.